The 2017 Live Auction at MLB All-Star FanFest
Monday, July 10th and Tuesday, July 11th
Location: Miami Beach Convention Center
1900 Washington Avenue
Miami Beach, FL 33139
Welcome to the online catalogue for the 2017 Live Auction at MLB All-Star Fanfest. This exclusive live auction will feature over 700 live auction lots of historical memorabilia. Lots 1-451 will be sold LIVE and in person beginning at 11:00am ET on Monday, July 10th at the Miami Beach Convention Center. Lots 452-end will be sold LIVE and in person beginning at 12pm ET on Tuesday, July 11th at the Miami Beach Convention Center. The auctioneer generally sells 75 lots per hour in numerical order per the catalogue. Online pre-bidding will close on Sunday, July 9th at 10pm ET.



The Live Auction is open for online pre-bidding until Sunday, July 9th at 10pm ET. High Bids & Ceiling Bids placed during the pre-bidding period will be executed competitively during the Live Auction. Additional arrangements for phone & absentee bidding are being accepted at 610.524.0822 or info@huntauctions.com until Friday, July 7th at 5:00pm ET. Please review the Bidding Instructions for a full explanation of the bidding procedures.




Interactive Online Bidding will be available to all registered Hunt Auctions bidders. This bidding platform will provide Hunt Auctions bidders the ability to participate with real time interactive online bidding during the live auction. The interactive bidding will be powered by Invaluable and may be accessed via a link that will be available closer to the date of the auction. Bidders must have a valid Hunt Auctions username and current email address to bid interactively online during the auction. Please note, unless you have already received premiere bidding status and plan to bid live online for item(s) totalling $5,000 or higher, you will need to be preapproved as such.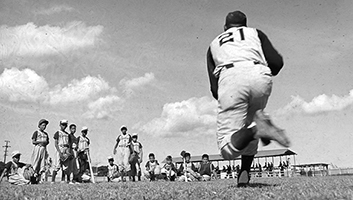 <9pt> This year we proudly present
THE PERSONAL COLLECTION OF ROBERTO CLEMENTE
The Clemente Collection is one of the most significant player collections to have ever been offered at public auction and has been consigned directly to the event by the Clemente family. Roberto Clemente played his entire 18 year career as right fielder with the Pittsburgh Pirates. His accolades rank among the most elite players in the history of the game collecting 3,000 career hits, .317 Lifetime batting average, (12) Gold Glove Awards, (15) NL All-Star team selection, (2) World Series Championships, 1971 World Series MVP, Elected to the National Baseball Hall of Fame in 1973; and #21 retired by the Pittsburgh Pirates. Perhaps the only attributes that could eclipse Clemente's performance on the baseball field would be his lifetime dedication to helping others less fortunate than him. Roberto's legacy within his homeland of Puerto Rico is without equal having earned a reputation of a deeply caring man who used his status to help others in need. Tragically, Roberto Clemente passed away on December 31, 1972 as he was en route to assist victims of an earthquake in Nicaragua when his plane crashed into the Atlantic Ocean. His legacy proudly carried on through his wife Vera and sons Roberto Jr., Luis, and Ricky all of whom have dedicated much of their lives to some of the very same causes championed by their father.

The Clemente Collection will be offered during the Tuesday, July 11th Session #2 and will consist of an astounding grouping of significant items spanning the entire career of the legendary Pittsburgh Pirates icon. 9pt>