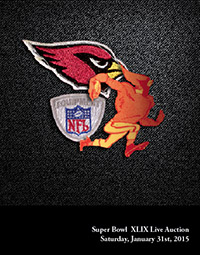 Welcome to the online catalogue for the Super Bowl XLIX Live Auction. This exclusive live auction features 546 live auction lots of historical memorabilia and an additional 282 online only lots. The first 546 lots will be sold live and in person beginning at 12pm on Saturday, January 31st MST at the Phoenix Convention Center North in Phoenix Arizona. The auctioneer generally sells 100 lots per hour in numerical order per the catalogue.The additional online only lots will close on Monday, February 2nd at 10pm ET.

The Live Auction is open for online pre-bidding until Friday, January 30th at 10pm MST. High Bids & Ceiling Bids placed during the pre-bidding period will be executed competitively during the Live Auction. Additional arrangements for phone & absentee bidding are being accepted at 610.524.0822 or info@huntauctions.com. until Thursday, January 29th at 5:00pm ET. Please review the Bidding Instructions for a full explanation of the bidding procedures.



Interactive Online Bidding is being offered for the first time and is available to all registered Hunt Auctions bidders. This exciting new bidding platform will provide Hunt Auctions bidders the ability to participate with real time interactive online bidding during the live auction. The interactive bidding will be powered by Invaluable and may be accessed via a link that will be available closer to the date of the auction. Bidders must have a valid Hunt Auctions username, password, and current email address to bid interactively online during the auction. Please note, unless you have already received premiere bidding status and plan to bid live online for item(s) $5,000 or higher, you will need to be preapproved as such.



NFL Auction
Lots 1-29 and 418-468 originate directly from NFL Auction. These specific pieces are accompanied by certification from the NFL and are noted as such within each applicable description. An additional grouping of items originating from NFL Auction are offered within a later portion of the catalogue and are also specifically noted as such. This particular grouping is one of the finest of its type to have been offered at public auction and we are particularly proud to present such a superb selection of materials, the proceeds of which will benefit so many notable nonprofit organizations. NFL Auction brings fans closer to the game with guaranteed and authentic, signed, game-used items straight from the playing field.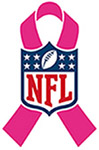 Breast Cancer Awareness
Lots 15-32 support the NFL's 'A Crucial Catch' campaign. In collaboration with the American Cancer Society (ACS). 'A Crucial Catch' is the league's breast cancer awareness platform that encourages all women over 40 to get an annual mammogram. Since 2009, the first year of the 'A Crucial Catch' campaign, the partnership has raised over $5 million for ACS, with the majority of the donations coming from the sale of pink items at retail and through NFL Auction. All dollars raised since last year help fund the Community Health Advocates National Grants for Empowerment (CHANGE) program. This program provides outreach and breast cancer screenings to women who need them.






The Personal Collection of Randall Cunningham
Lot numbers 33-137 originate from the personal collection of Randall Cunningham. With his dy- namic style of play Randall Cunningham revolutionized the quarterback position as we know it ushering in an exciting new manner in which the game would be played moving forward. Randalls professional career began with the Philadelphia Eagles and was initially used as a specialty quarterback on third down plays. Eventually his talents led him to the opportunity of starting quarterback, a role which he would flourish within capturing several Most Valuable Player Awards during his 16 year career. Between the Philadelphia Eagles, Minnesota Vi- kings, Dallas Cowboys, and Baltimore Ravens Cunningham accumulated 29,979 yards and rushed for another 4,928 yards which at the time of his retirement was the all-time leader in rushing for the position. The offered materials have been consigned directly by Randall Cunningham to this auction and are being presented publicly for the first time. Mr. Cunninghams main reasoning for presenting these materials from his playing career is that he is proud to announce that a portion of the proceeds will be devoted to Remnant Youth in Nevada. As part of his work, Randall has devoted significant efforts to improve the lives of young people within his com- munity. It is with that spirit that Mr. Cunningham offers these materials to the public to assist him to continue similar pursuits including newly planned construction for a significant youth gym and recreational training cen- ter. We are greatly appreciative and honored to represent one of the great players in NFL history and an iconic figure within the game of football.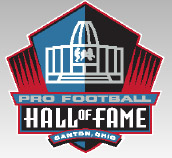 National Pro Football Hall of Fame
Lots 196-202 have been consigned directly by the National Pro Football Hall of Fame. The grouping includes several outstanding pieces of a very fine quality level, the proceeds of which will benefit the Hall of Fame. We are honored to have been allowed to include these exciting items within this Super Bowl auction.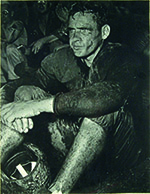 The Personal Collection of Michael Cupon
Lot numbers 251-338 originate from the personal collection of Michael Cupon. Nick- named 'Iron Mike', Michael Cupon came to the United States from Croatia settling in the Pittsburgh area. Cupon worked for J&L Steel during the week but it was truly the weekends that he waited for with great anticipation. Mr. Cupon became employed as the visiting team clubhouse manager for Forbes Field and later Three Rivers Stadium from the 1950s through the 1980s. The athletes he met and spent time with were the stuff of legend including Jim Brown, Roberto Clemente, Jack Lambert, Terry Bradshaw, and many others. This particular collection is without question one of the most significant discoveries of vintage professional football equipment to have ever entered the collecting marketplace. The rarity of locating this quantity of vintage NFL game worn jerseys in essentially unprecedented in- clusive of several examples which may well be uniquely surviving specimens. Mr. Cupon's granddaugh- ter, Dawn, recently remarked, 'Michael Cupon was a wonderful family man, great friend, and pillar of the community. This collection was my grandfather! He had such pride and joy when speaking of these people who gave him all these balls, jerseys, and other items. I hope the people who receive these items feel the same joy and pride as he did.' The balance of the Cupon Collection will be sold in a future baseball themed auction. Each items within this current offering will include a letter of provenance from the Cupon family.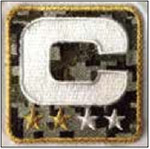 Salute to Service
Lots 429- 457 support the NFLs Salute to Service campaign which was launched last year to amplify and enhance the leagues more than 50-year history of honoring active duty service members and veterans. Each year – and most visibly during Salute to Service games – all NFL teams honor those who serve or have served our country through ceremonies in-stadium and in the community. For every point scored during the 32 Salute to Service games (one at each club) in 2014, the NFL donated to each of its core, military non-profit partners USO, Wounded Warrior Project and Pat Tillman Foundation.





International Series
In an effort to promote the game of football worldwide, the NFL has held 'International Series' games in London, England since 2007. Offered in this section are jerseys worn during the 2014 International Series games. On October 26, 2014 the Atlanta Falcons played the Detroit Lions at Wembley Stadium in London. The Lion won in a thrilling game by a score of 22-21. The offered jerseys were worn during that International Series game and originate directly from the NFL.





Auction Location
Phoenix Convention Center North 100 North 3rd Street Phoenix, AZ 85004
Preview Exhibition and Free Appraisal Fair
Phoenix Convention Center North
Saturday, January 24th through Saturday, January 31st
Visit to view hours


Auction Time:
Saturday, January 31st, 2015 at 12pm MST

Auctioneer:
Scott Foster

Bidding Inquiries:
Hunt Auctions
256 Welsh Pool Road | Exton, PA 19341
Ph: 610.524.0822 | Fax: 610.524.0826
www.huntauctions.com | info@huntauctions.com