Super Bowl LI Live Auction
Saturday, February 4, 2017 at 11:00AM CT
Location: George R. Brown Convention Center
1001 Avenida De Las Americas
Houston, TX 77010
Welcome to the online catalogue for the Super Bowl LI Live Auction. This exclusive live auction features 596 live auction lots of historical memorabilia and 150 lots to be sold online only. Lots 1-596 will be sold LIVE and in person beginning at 11:00am CT on Saturday, February 4th at the George R. Brown Convention Center. The auctioneer generally sells 100 lots per hour in numerical order per the catalogue. Online pre-bidding will close on Friday, February 3rd at 9pm CT.

Online Only Items: Lots 597-End will be sold exclusively online with bidding closing on Monday, February 6th. Initial Bidding Ends at 10pm ET With Bidding Continuing For 20 Minute Intervals.

The Live Auction is open for online pre-bidding until Friday, February 3rd at 9pm CT. High Bids & Ceiling Bids placed during the pre-bidding period will be executed competitively during the Live Auction. Additional arrangements for phone & absentee bidding are being accepted at 610.524.0822 or info@huntauctions.com until Wednesday, February 1st at 5:00pm ET. Please review the Bidding Instructions for a full explanation of the bidding procedures.





Interactive Online Bidding will be available to all registered Hunt Auctions bidders. This bidding platform will provide Hunt Auctions bidders the ability to participate with real time interactive online bidding during the live auction. The interactive bidding will be powered by Invaluable and may be accessed via a link that will be available closer to the date of the auction. Bidders must have a valid Hunt Auctions username and current email address to bid interactively online during the auction. Please note, unless you have already received premiere bidding status and plan to bid live online for item(s) $5,000 or higher, you will need to be preapproved as such.



<9pt>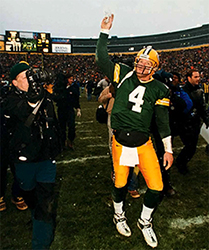 Introducing the Brett Favre Collection

It is an honor and a privilege to present this incredible selection of materials, which originate from the personal collection of Brett Favre.

Few athletes in the storied history of the National Football League have enjoyed more success or garnered the high level of regard among their peers than Brett Favre. Brett's combination of skill, talent, perseverance, and shear endurance are unequalled in the nearly 100 year history of the League.

By any reasonable measure, it is difficult to comprehend Mr. Favre's career statistics: 302 Games Played; 6,300 Completions in 10,169 Attempts; 71,838 Yards; 508 Touchdowns; 11 Time Pro Bowl Selection; 3 Time MVP Award Winner; NFL1990s All Decade Team; Green Bay Packers Retired #4; Pro Football Hall of Fame 2016.

The adversity that Favre played through during his career coupled with his accomplishments clearly place him among the greatest players in the history of the NFL. Equally impressive are the various philanthropic endeavors Mr. Favre and his wife Deanna have been involved with during his career, most notably through the work of Favre 4 Hope. I am very pleased to pronounce that a portion of the proceeds from the sale of the items within the Favre Collection will benefit several philanthropic entities including Favre 4 Hope.

With that we would like to wish all of Brett's fans the very best of luck in their bidding and sincere thank you for their participation in this incredible offering to which we are very pleased to present. 9pt>