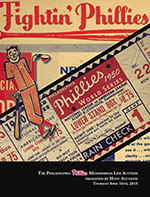 Welcome to the online catalogue for the April 16th, 2015 Philadelphia Phillies Memorabilia Live Auction. This exclusive live auction features 291 live auction lots of historical memorabilia. Lots will be sold lIVE and in person beginning at 6:30pm on Thursday, April 16th ET at the Diamond Club at Citizens Bank Park in Philadelphia Pennsylvania. The auctioneer generally sells 100 lots per hour in numerical order per the catalogue. Online pre-bidding will close on Wednesday, APril 15th at 10pm ET.

The Live Auction is open for online pre-bidding until Wednesday, April 15th at 10pm ET. High Bids & Ceiling Bids placed during the pre-bidding period will be executed competitively during the Live Auction. Additional arrangements for phone & absentee bidding are being accepted at 610.524.0822 or info@huntauctions.com. until Wednesday, April 15th at 5:00pm ET. Please review the Bidding Instructions for a full explanation of the bidding procedures.



Interactive Online Bidding is being offered for the first time and is available to all registered Hunt Auctions bidders. This exciting new bidding platform will provide Hunt Auctions bidders the ability to participate with real time interactive online bidding during the live auction. The interactive bidding will be powered by Invaluable and may be accessed via a link that will be available closer to the date of the auction. Bidders must have a valid Hunt Auctions username and current email address to bid interactively online during the auction. Please note, unless you have already received premiere bidding status and plan to bid live online for item(s) $5,000 or higher, you will need to be preapproved as such. View upcoming auctions offered for live online bidding through Invaluable, click here for details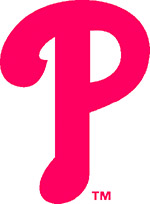 Philadelphia Phillies
Lots 1-29 originate directly from the Philadelphia Phillies. One of the National League's most prestigious franchises boasts a highly decorated tradition for excellence inclusive of numerous National League titles and two World Championships. The offered materials represent a fine selection of items which relate to some of the Phillies greates players of the most recent chapter in club history. We are honored and excited to bring the offered items from the Phillies to you, the collecting public and devoted fans.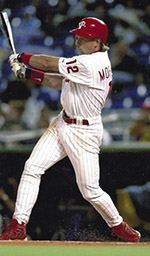 The Mickey Morandini Collection
Lots 115-121 originate from the personal collection of Mickey Morandini. Morandini ascended within the Phillies Minor League system joining the Major League Club in 1990 and continuing with the team through the 1997 season. As a member of the Phillies 1993 NL Championship team with a hard style of play, he endeared himself to the Philadelphia fans and made himself a fan favorite. The offered items have been consigned directly from Mickey Morandini and will include a signed letter of provenance.












Auction Location
Citizens Bank Park
The Diamond Club
1 Citizens Bank Way
Philadelphia, PA 19148
Preview Exhibition
The Diamond Club
Thursday, April 16th, 2015 from 1:00pm-6:30pm
Visit to view hours


Auction Time:
Thursday, April 16th, 2015 at 6:30pm ET

Auctioneer:
Scott Foster

Bidding Inquiries:
Hunt Auctions
256 Welsh Pool Road | Exton, PA 19341
Ph: 610.524.0822 | Fax: 610.524.0826
www.huntauctions.com | info@huntauctions.com