Welcome to the online catalogue. This exclusive Live Auction features over 300 lots of historical memorabilia. All lots will be sold live and in person beginning at 12:00 pm ET on Saturday, April 12th. The auctioneer generally sells 100 lots per hour in numerical order per the catalogue.

The Live Auction is open for online pre-bidding until Friday, April 11th at 9pm ET. High Bids & Ceiling Bids placed during the pre-bidding period will be executed competitively during the Live Auction. It is not possible to bid online during the auction itself. Additional arrangements for phone & absentee bidding are being accepted at 610.524.0822 or info@huntauctions.com. Please review the Bidding Instructions for a full explanation of the bidding procedures.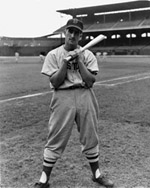 The Personal Collection of Johnny Pesky
Lots 1 - 236 originate from the personal collection of former Boston Red Sox great Johnny Pesky. Johnny Pesky remains one of the most beloved personalities in the storied history of the Boston franchise. Beginning his playing career in 1942 Pesky continued until 1954 primarily with the Boston Red Sox. During his playing career Johnny Pesky admirably served in the Navy during World War II from 1942-1945. Following his playing career Johnny continued his service to the game that he loved so very much as a manager, coach, mentor, and ambassador. Pesky's tireless commitment to the game of baseball and his Boston Red Sox lasted throughout the remainder of his lifetime culminating with a long awaited and well deserved World Championship in 2004. Generations of Red Sox fans alike were blessed to have been able to enjoy the presence of Johnny Pesky and his involvement with the team. Countless players over the years who he influenced name Pesky as one of the most influential figures within their career both on the field and more importantly off the field as valuable members of the community. It is our privilege to be able to offer this fine collection to the great fans of Boston in celebration of the life and career of one of their own, "Mr. Red Sox", Johnny Pesky. Each lot within the Johnny Pesky Collection will be accompanied by a Letter of Provenance from the Pesky family.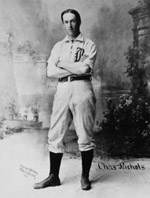 The Personal Collection of Charles "Kid" Nichols
Lots 314 - 344 originate from the personal collection of Hall of Fame pitcher Charles "Kid" Nichols. It is with extreme pride that we are pleased to present this incredible collection of artifacts from the incredible 19th century pitcher, Kid Nichols. Nichols enjoyed a stellar career between 1890-1906 with the Boston Beaneaters, St. Louis Cardinals, and Philadelphia Phillies compiling a superb career record of 361-208. He is regarded by historians as one of the greatest pitchers in the early period of professional baseball with an incredible ten consecutive seasons with 20 or more wins. This grouping of materials originates directly from the Nichols family and are being offered for the first time publicly. The scarcity and significance of the collection cannot be overstated numbering as one of only a scant handful of its type to have become available at public auction. We are honored to have been selected by the Nichols family to represent this historic offering and encourage all interested parties to take note of the this truly unique collecting opportunity. Each lot within the Kid Nichols Collection will be accompanied by a Letter of Provenance from the Nichols family.




The Brearley Collection
Dennis Brearley was a Pulitzer Prize winning photo journalist for a Boston newspaper when in 1978 he left the newspaper industry to embark on a small business venture. Brearley very successfully sold the historic photographs printed from his collection of original negatives. The variety and quality of these images is truly remarkable. Additionally, Mr. Brearley loved to photograph baseball games holding the position of Red Sox team photographer from 1988-2001. The memorabilia collection accumulated by Mr. Brearley was very special to him because it consisted of photos from his collection of original negatives that were signed by the subject in the photo. He enjoyed presenting athletes with a collection of photographs from their playing days and in turn, they were more than happy to sign some of these photos for his personal collection. Mr. Brearley's favorite negative was Ted Williams at bat on opening day in 1947. Williams became familiar with this image and labeled it his "classic swing" shot.


Auction Preview
Fenway Park - State Street Pavilion
Friday, April 11th | 10am - 4pm
Saturday, April 12th | 9am - 12pm

Auction Location:
Fenway Park - State Street Pavilion
20 Yawkey Way
Boston, MA 02215
www.redsox.com

Auction Time:
Saturday, April 12, 2014 at 12:00pm ET

Auctioneer:
Scott Foster, Massachusetts License Number AU-3173

Bidding Inquiries:
Hunt Auctions
256 Welsh Pool Road | Exton, PA 19341
Ph: 610.524.0822 | Fax: 610.524.0826
www.huntauctions.com | info@huntauctions.com