| | | |
| --- | --- | --- |
| | Lot Number: 219 | |
| | | |
| | | |
| | | |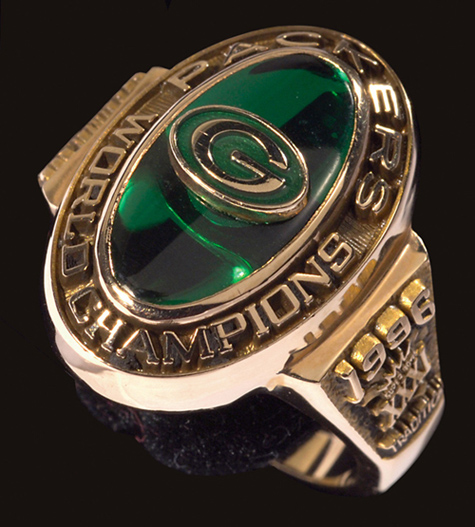 Lot 219
Description:
Green Bay Packers Super Bowl XXXI Champions 14K gold women's shareholders ring. Classic green oval stone at center of top face with overlaid team logo. Lettered around the edge "Packers World Champions." Left shank reads "Stockholder 16-3" with team logo helmet and football below in relief. Right shank has the year "1996" above the "Super Bowl XXXI" logo and "Tradition" motto. Stamped "14K" on inside band. Size 7: NM
Estimated Price Range: ($1,250-$1,750)
Current EST: 05/25/15 3:20:21 PM

The LIVE Auction is closed to online pre-bidding. Lots 1-419 will re-open on Saturday, February 1st. High Bids & Ceiling Bids placed during the pre-bidding period will be executed competitively during the Live Auction. It is not possible to bid online during the auction itself. Additional arrangements for phone & absentee bidding are being accepted at 610.524.0822 or info@huntauctions.com.



Online Only lots, 420-end, are open for bidding until Monday, February 3rd with bidding continuing for 20 minute intervals. These lots will NOT be part of the Live Auction.


| | | |
| --- | --- | --- |
| | Sold for Price: $1,800.00 | |