Louisville Slugger Museum & Factory Live Auction
Saturday, November 13, 2021 at 10:30am ET
Welcome to the online catalogue for the 18th Annual Louisville Slugger Museum & Factory Live Auction. This exclusive auction will feature over 300 lots of vintage and modern baseball memorabilia and cards. The live auction begins at 10:30am ET on Saturday, November 13th. The auctioneer generally sells 75 lots per hour in numerical order per the catalogue beginning at lot 1. Bidding will be available via absentee, in-person, online, and over the phone.
Online pre-bidding ends Friday, November 12th at 6:00pm ET. Pre-bids/ceiling bids left at huntauctions.com will be executed during the live auction on November 13th. After online pre-bidding closes on our website, the auction will move to the live format, with bidding available via telephone, absentee, and online interactively via Invaluable (see below). If you wish to phone bid during the Live Auction please call 610-524-0822 or email info@huntauctions.com before November 12th. Please note, you do not have to pre-bid in order to bid during the live auction.
If you have any trouble bidding on auction day, Noevmber 13th, please call our office at 610-524-0822 so we can assist you as quickly as possible.



Live Interactive Online Bidding will be available to all registered Hunt Auctions bidders.
This bidding platform will provide Hunt Auctions bidders the ability to participate with real time interactive online bidding during the live auction. The interactive bidding will be powered by Invaluable and may be accessed via a link that will be available closer to the date of the auction. Bidders must have a valid Hunt Auctions username and current email address to bid interactively online during the auction. Please note, unless you have already received premiere bidding status and plan to bid live online for item(s), $20,000 is the total bidding limit, you will need to be preapproved as such.
---
This Auction Features
---

Property of a Northeastern Gentleman
Items at the beginning of this sale represent the fourth offering from a significant private collection of historic baseball memorabilia. The collection has been curated over three decades with focus on rare game-worn uniforms, game-used bats, autographed materials, and vintage photography. Many of the objects within the collection have not been previously offered at auction with numerous significant and/or unique items within same.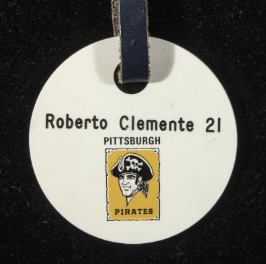 Patrick Kervin Collection
Lots 82-109 originate from the personal collection of Patrick Kervin consisting of Pittsburgh Pirates and related memorabilia. Patrick worked as an assistant with the Pirates during Spring Training in addition to the 1959 All-Star Game in Pittsburgh. The items within the collection include several very fine examples and were obtained directly by Mr. Kervin in the period. This is the first time these items have been offered to the public.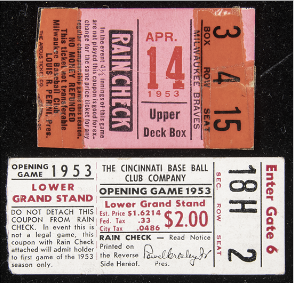 Collection of Historic Baseball Tickets and Stadia Memorabilia
Lots 369-412 originate from the personal collection of a prominent East Coast Collector. The collection will be sold over a period of time with the first installment offered within this catalogue. Curated over several decades the collection is one of the most comprehensive of its type within the hobby with note to both quality and volume.
Auction Date & Time:
Saturday, November 13, 2021 at 10:30am ET
Auction Location:
Louisville Slugger Museum & Factory
800 W Main St, Louisville, KY 40202
https://www.sluggermuseum.com/

Auctioneer:
Scott Foster

Bidding Inquiries:
Hunt Auctions
256 Welsh Pool Road | Exton, PA 19341
Ph: 610.524.0822 | Fax: 610.524.0826
info@huntauctions.com