| | | |
| --- | --- | --- |
| | Lot Number: 353 | |
| | | |
| | | |
| | | |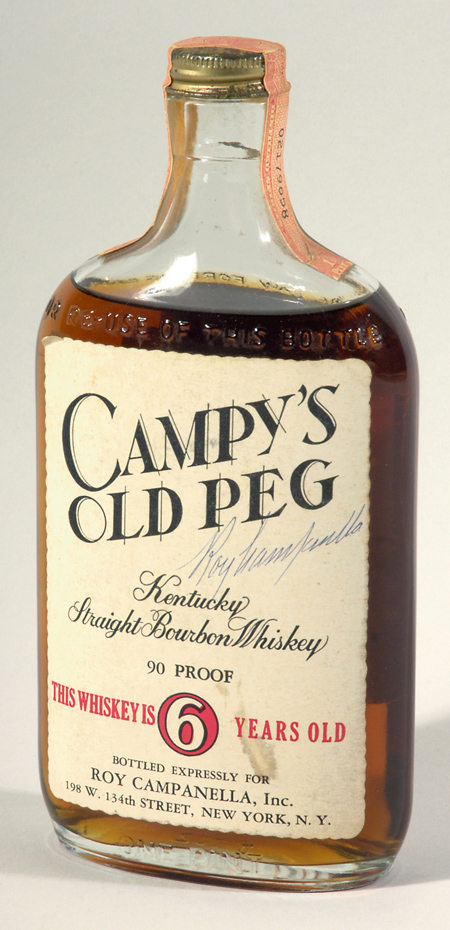 Lot 353
Description:
c.1950s Roy Campanella autographed "Campy's Old Peg" whiskey bottle. Period bottle retaining front and back labels advertising "Campy's Old Peg Kentucky Straight Bourbon Whiskey+Bottled expressly for Roy Campanella, Inc." Back has "Roy Campanella Wines & Liquors" applied logo decal. Front label has been signed, "Roy Campanella" in vintage blue ink rating 9 out of 10. Light age toning throughout with minimal wear. Fine display piece is the first we have encountered. Includes auction LOA from JSA: Bottle EX-EX/MT, Sig EX/MT-NM
Estimated Price Range: ($1,000-$2,000)
Current EST: 01/31/15 6:34:28 AM
The LIVE Auction, Lots 1-546, is open for online pre-bidding until Friday, January 30th at 10pm MST. High Bids & Ceiling Bids placed during the pre-bidding period will be executed competitively during the Live Auction. Additional arrangements for phone & absentee bidding are being accepted at 610.524.0822 or info@huntauctions.com. Approved Hunt Auctions users may login to the Live auction and bid interactively online through our new platform powered by Invaluable which will be available at the start time of the Live auction.

The ONLINE ONLY Auction, Lots 547-828, is open for online bidding until Monday, February 2 with extended bidding beginning at 10pm EST. Please note: these lots will not be available for bidding in a Live Auction format.