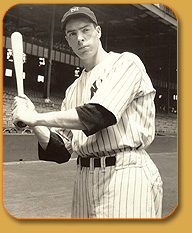 The Joe DiMaggio Collection

Hunt Auctions, Inc. is honored to have conducted the Joe DiMaggio collection at public auction. This historic offering of materials from the personal collection of Joe DiMaggio took place over four sessions at the Marriott Marquis Hotel in New York City on May 19th and 20th, 2006.
The collection covered the life and career of Joe DiMaggio beginning with his roots in San Francisco, continuing with his storied years with the New York Yankees, and culminating with his post career days as a baseball ambassador and revered cultural icon. Joe DiMaggio was one of the most respected and honored men in the history of American sport. He was equally lauded as an important citizen who had a profound impact on the country during a formative period in American history. While Joe DiMaggio's lifetime accomplishments are many, he is possibly most respected for his voluntary entry into the U.S. Military during World War II for which he sacrificed several years during the prime of his playing career to serve his country.
The offered collection consisted of thousands of items and was intended as a tribute to and celebration of "The Yankee Clipper". The auction results were nothing less then astounding with numerous record prices set in various categories.