| | | |
| --- | --- | --- |
| | Lot Number: 3i | |
| | | |
| | | |
| | | |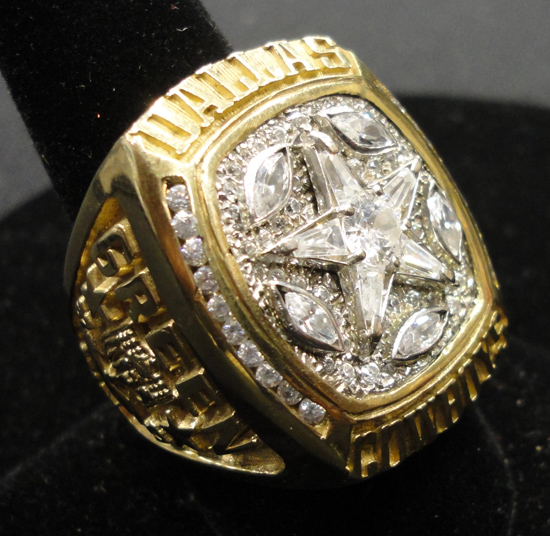 Lot 3i
Description:
1995 Dallas Cowboys Super Bowl Champions ring (staff member). Uniquely styled ring features a CZ stone star design on the top face surrounded by additional highlighting stones incl. (5) in the shape of footballs. Lettered "Dallas Cowboys" around the edge. On the left shank in relief is a "World Champions 71, 92, 95, 93, 77" design incorporating the Super Bowl XXX logo and (5) Lombardi Trophies (3 have CZ highlights). Right shank has the name "Green" above an NFL logo and team record and Dallas Stadium relief with "Staff" below. One of the most visually enticing modern-era Super Bowl rings produced. Unmarked, very minor wear. Includes original box: EX/MT
Estimated Price Range: ($5,000-$7,000)
Current EST: 05/21/13 3:49:06 PM

This item is closed to online bidding as of Thursday, February 3 at 11pm EST. High Bids & Ceiling Bids placed during the pre-bidding period will be executed competitively during the Live Auction. All lots will be sold live and in person beginning at 11am CST on Saturday, February 2nd. It is not possible to bid online during the auction itself. Additional arrangements for phone & absentee bidding are being accepted at 610.524.0822 or info@huntauctions.com.


| | | |
| --- | --- | --- |
| | Sold for Price: $3,812.00 | |