| | | |
| --- | --- | --- |
| | Lot Number: 176 | |
| | | |
| | | |
| | | |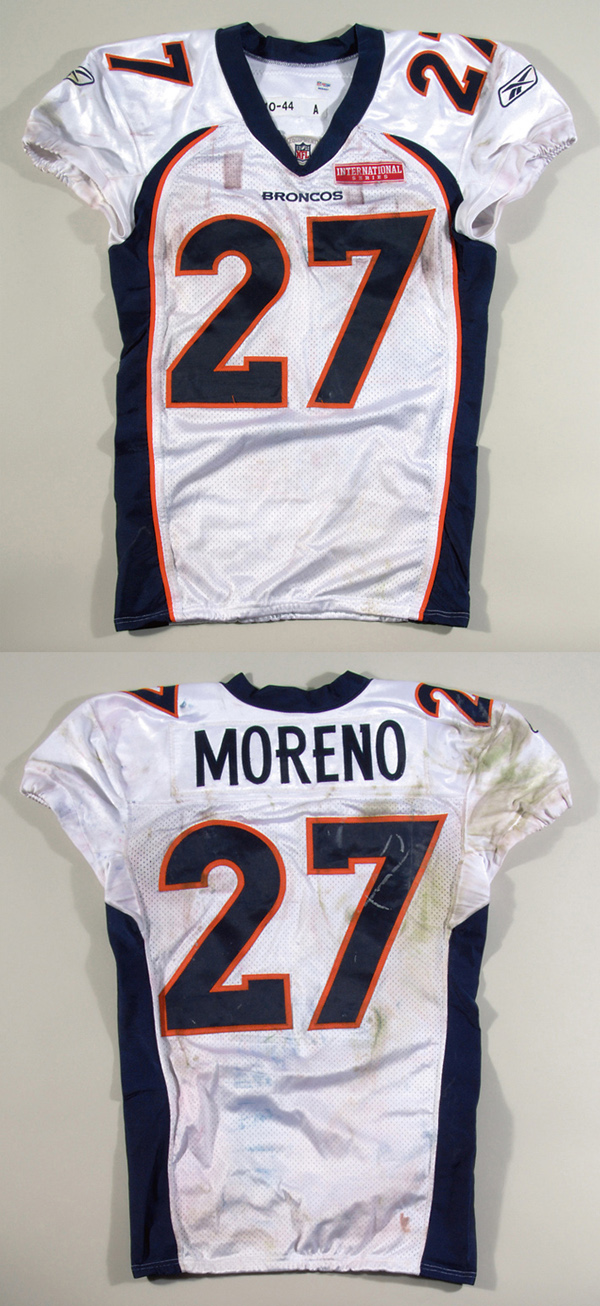 Lot 176
Description:
October 31, 2010 Knowshon Moreno game used Denver Broncos International Series jersey (NFL Auctions - PSA/DNA). White mesh pull over jersey worn by Moreno during game vs. the San Francisco 49ers which was played at Wembly Stadium in London, England. Player number "27" sewn on front, back, and shoulders. "Moreno" nameplate on back. In the collar is the "10-44" strip tag denoting year and size and additional "A" tag. Reebok logos embroidered on either sleeve and "NFL Equipment" shield logo at base of neck. International Series patch on front. Heavy usage wear throughout. Authenticated by PSA/DNA as part of the Official Authentic NFL program and includes their certificate: EX
Estimated Price Range: ($1,000-$2,000)
Current EST: 05/18/13 2:23:33 PM

This item is closed to online bidding as of Thursday, February 3 at 11pm EST. High Bids & Ceiling Bids placed during the pre-bidding period will be executed competitively during the Live Auction. All lots will be sold live and in person beginning at 11am CST on Saturday, February 2nd. It is not possible to bid online during the auction itself. Additional arrangements for phone & absentee bidding are being accepted at 610.524.0822 or info@huntauctions.com.


| | | |
| --- | --- | --- |
| | Sold for Price: $1,000.00 | |