| | | |
| --- | --- | --- |
| | Lot Number: 166 | |
| | | |
| | | |
| | | |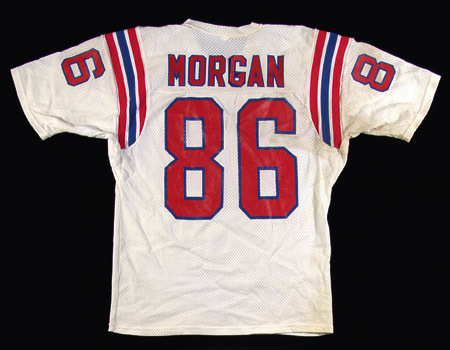 Lot 166
Description:
Stanley Morgan New England Patriots professional model road jersey c.1980s. White mesh jersey features Morgan's number 86 screened on front, back, and both sleeves with last name on back. Sand Knit tagging appears on front tail noting size "Large". Jersey shows light evident usage wear and letter "G" on back has partially separated from jersey. A four-time Pro Bowler, Morgan played wide receiver for the Patriots from 1977 to 1989. Morgan is the PatriotsÆ all-time career leader in touchdowns (68), receiving yards (10,352), 100-yard receiving games (39) and 1,000-yard receiving seasons (3). He ranks second in franchise history with 534 career receptions. Includes LOA from Hunt Auctions and letter of provenance from the original recipient: EX
Estimated Price Range: ($500-$750)
Current EST: 05/23/13 10:48:16 AM

This item is closed to online bidding as of at EST. High Bids & Ceiling Bids placed during the pre-bidding period will be executed competitively during the Live Auction. All lots will be sold live and in person beginning at 11am CST on Saturday, February 2nd. It is not possible to bid online during the auction itself. Additional arrangements for phone & absentee bidding are being accepted at 610.524.0822 or info@huntauctions.com.